Breast augmentation or mammoplasty is a breast size enhancing surgery. This procedure involves placing a breast implant or fat tissue under the breast tissue or chest muscles.
The general use of breast augmentation mammoplasty (breast augmentation) is to increase breast size or eliminate breast asymmetry. Candidates include women who want to have bigger breasts and those who have lost their breasts for reasons such as pregnancy or significant weight loss and want to regain their breast size. Breasts can be implanted or fat transplanted. This surgery is not a substitute for mastopexy( mastopexy is a method of lifting breasts that are significantly sagging).
For some women, breast augmentation is a way to feel more confident, and for some, it is necessary for medical reasons and conditions.
Breast augmentation mammoplasty is also very useful and effective for women whose breasts have become asymmetrical due to the loss of volume and firmness of their breasts after pregnancy or weight loss.
You will be more informed about this medical procedure in the following.
Types
The two common types of augmentation mammaplasty include fat injection and procedures using implants.
Augmentation mammoplasty with fat transplantation:
When fat from another part of the patient's body is used to increase breast volume, this procedure is known as breast augmentation with fat transfer.
Augmentation mammaplasty with fat transplantation (fat transfer) uses extra fat to remove excess fat from other parts of the body. The fat is then infused into the breasts. Mammoplasty is appropriate for ladies who are not searching for a critical expansion in breasts size and need their breasts to look as natural as could be expected.
Augmentation Mammaplasty with Implants:
Silicone and saline are the two types of implants that are most used in mammoplasty. Silicone implants look more like breasts than saline ones. But the saline implant has the advantage over the silicone that if the saline implant ruptures, the saline is naturally absorbed by the body, whereas if the silicone implant ruptures (rupture of the outer capsule), the silicone filler leaks into the body. It may lead to inflammatory nodules or enlarged lymph nodes.
The implant specialist places the back of each breast, under the breast tissue or muscle in the chest wall. This procedure takes 1 to 2 hours and is usually performed under general anesthesia, although local anesthesia may be used with a sedative. Incisions are made in hidden areas of the body (under the armpits, in the crease in the lower chest, or around the areola) so that the scars are as invisible as possible. The breast is then lifted and a pocket is made in which the implant is placed.
Implant placement behind the chest wall muscle is better than elsewhere because it involves a possible reduction in the risk of capsular contracture (hardening of scar tissue around the implant). Disadvantages include the potential need for drainage pipes and a longer recovery period. The benefits of implant placement under breast tissue include that the breasts move more naturally using its pectoral muscles and partial sagging of the breast is corrected.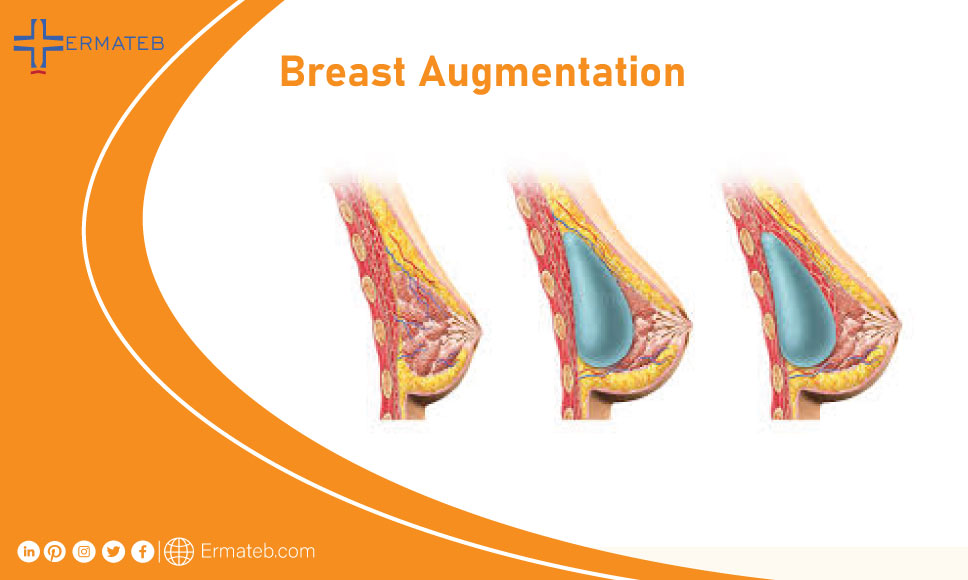 For many weeks before augmentation mammoplasty, tissue expanders are also placed below the muscles of the chest wall to enlarge the breasts and increase the number of fat they can hold. Once the tissue has enlarged enough, the augmentation can begin using fat transfer. The fat is 1st removed using liposuction, within which a cannula (thin, hollow tube) is inserted through little incisions and so moved back and forth to loosen excess fat, employing a vacuum or syringe hooked up to the cannula. it's sucked out. The harvested fat cells are then purified. within the second method, which is done on a constant day, fat is injected into the breast through little incisions. This procedure takes just about four to five hours.
How to prepare for surgery
You will consult a plastic surgeon about your benefits for the size and overall appearance of your breasts. The surgeon describes certain types of implants, such as smooth or tissue, saline or silicone, round or shaped, such as surgical teardrops.
Carefully review written information, such as patient information you receive from the implant manufacturer, and keep copies of your records.
Before deciding on surgery, consider the following:
1. Breast implants do not prevent your breasts from sagging, so in addition to breast augmentation, your plastic surgeon may recommend a breast lift to correct sagging breasts.
2- The average lifespan of an implant is about 10 years and is not permanent. Implant rupture may also occur. Factors such as aging breasts, weight gain, or weight loss may also change the appearance of your breasts. These problems may lead to the need for more surgery.
3- It should be noted that breast implants may make breastfeeding difficult. For some breastfeeding women, breast implants are not a problem, but for some, breastfeeding is a challenge.
4. You should know that later if you decide to have your implant removed, you may need additional surgery after the breast implant is removed. You may need a breast lift or other corrective surgery to help restore your breast appearance.
5. Screening for rupture of silicone implants is usually recommended. The FDA recommends that you simply have a breast MRI five to six years when breast augmentation to screen for a silicone breast rupture. Then MRI of the breast is recommended each 2 to a few years. Ultrasound could also be another screening technique - unless you have symptoms. refer to your cosmetic surgeon concerning the particular type of imaging required to observe your implants.
6. you will like an initial X-ray picture before surgery. Your doctor can also prescribe certain medications before surgery. For example, it's necessary to avoid aspirin or other medications which will increase bleeding.
7. If you are a smoker, you will be asked to quit smoking for about four to six weeks before and after the operation.8. Make someone responsible for taking you home after surgery and staying with you for at least the first night.
Complications
In addition to the risks associated with surgery and anesthesia, infections and chest pain associated with Augmentation Mammaplasty using implants include the following:
1. Temporary or permanent change in the sensation of the nipple or breast
2. Leakage and rupture of the implant
3. Reduce swelling or implant displacement
4. Capsule contraction
5. Irregularity in contour (chest shape)
6. Partial or complete loss of the nipple
7. Asymmetry
Risks associated with Augmentation Mammaplasty using fat grafting include:
1. Oily cysts
2. Calcification
3. Loss of volume
4. Fat embolism
5. Fat necrosis
touch-up injections of fat are also often necessary because of the volume loss that occurs due to fat reabsorption by the body. The injection can be given under local anesthesia.
Cost
According to the American Society of Plastic Surgeons in 2020, the average cost of breast augmentation surgery is $ 4,516. This average cost is only part of the final cost, including anesthesia, operating room facilities, or other related costs. It should be noted that insurance does not cover this surgery.
The surgeon's salary will be based on experience, the type of method used, and the geographical location of the office.
The cost of breast augmentation may include:
Anesthesia costs
Hospital or surgery center costs
Clothes after surgery
Medical tests
Medication prescriptions
Surgeon's fee
After surgery
Pain, swelling, and bruising are possible for up to a few weeks after surgery. Expect the scars to fade over time but not disappear completely.
During recovery, using a pressure bandage or exercise bra to provide more support and placement of breast implants may help. Your surgeon may also prescribe painkillers.
Follow your surgeon's instructions for returning to normal activities. You may be able to return to work in a few weeks. Do not do strenuous activity or anything that can raise your pulse or blood pressure for at least two weeks. During recovery, your breasts will be sensitive to physical contact or rapid movements.
If your surgeon has used sutures that do not heal on their own or have placed drainage tubes near your breasts, you will need an appointment to remove them.
If you notice heat and redness in your chest or a high fever, you may have an infection, so contact your surgeon as soon as possible. Also, contact your doctor if you have shortness of breath or chest pain.
Results
Breast augmentation can change the size and shape of your breasts and in this way can improve the appearance of your body and self-esteem. But you should have a realistic view of the results and not expect perfection.
Also, your breasts will age like other parts of the body after the enlargement operation. Gaining or losing weight may also change the appearance of your breasts. If you are unhappy with the appearance of your breasts again, you may need more surgery to correct these problems.